How Meesho utilized social network to empower women entrepreneurship
Recently during a discussion with a friend, Meesho's business model came up as a topic. The one aspect which surprised was, that Meesho uses Whatsapp to sell its product, instead of directly selling it on its platform. In an era where most platforms want to increase the stickiness of their tools, how is a company affording to build a business on other platforms? Meesho's platforms amaze many, but there is a well-thought-out plan behind this business, let's find out.
Ideation of Meesho
Vidit Aatrey, an IIT alumnus, along with his friend Sanjeev Barnwal planned to set up their own startup. In 2015, they started conceptualizing an idea in the fashion space. They came up with Fashnear, a hyperlocal startup in the fashion startup. This startup planned to follow the O2O model (online to offline). Fashnear as a business idea could not take off. However, it did provide some valuable insights to Fashnear team.
Learnings from FashNear
Vidit and Sanjeev, during the FashNear experiment, realized that in India, an elaborate supply chain of wholesale –> distributor –> mom-and-pop store is deeply rooted. This supply chain governs the retail business in India. 90% business is concentrated in these retail stores. There was an upcoming trend that caught their attention. Many small business owners in India, especially Gujarat, bought various fashion segment items from small manufacturers. They distributed these items using WhatsApp. Another use case was of stock clearance. Manufacturers would circulate their stock clearance information via WhatsApp. Basically, WhatsApp was taking shape of a business platform.
If you have some Gujarati friends, in all possibilities you would have seen them circulating products via WA stories.
Another critical insight here is that products being sold through this channel are unbranded. For these products to be sold, they were majorly sold through word of mouth or distribution channel only. Indian businesses have a high density in MSME (Micro, small and medium enterprise) space. Most products from these companies are un-branded. Vidit and Sanjeev realized that there was a grey area of distribution. There was a distribution channel existing, without scale, and was unorganized. The three key problems faced by stakeholders were
Manufacturers did not have a centralized mechanism to connect all distributor
Manual entries of all the trades. Distributor managed fulfilments. All trades existed in the unorganized segment. ]
Manufacturers did not have enough network of distributors to expand in newer geographies.
How Does Meesho work?
Vidit and Sanjeev molded their new offering to cater to these needs Meesho, a short form of Meri Shop (meaning My shop). Meesho is a digital replica of the unorganized trade. Meesho did not want to change user behavior. They would ask small manufacturers, who largely sold unbranded products, to upload their catalog on their platform. Once these catalogs were available on the platform, distributors could browse the catalog and share them via Whatsapp. End-user continued to get the product information via Whatsapp. What's in it for the distributor?
Meesho as a platform allowed distributors to add a profit margin to the Total cost. The total cost here corresponds to the Manufacturer cost plus shipping cost. The margin would be anything that the distributor will take and that would be her profit. Over and above this, both distributors and manufacturers had a large network at their disposal to expand their business.
Basis the WhatsApp details shared, any person who received the message could purchase the item. In the Non-Meesho model, the distributor would have to take care of the delivery. Meesho, in their way of doing business, took out the delivery pain from the distributor's bucket, thus eliminating the need for Inventory. In a supply chain business, Inventory is the major cost. If you eliminate product delivery, most of your cost is negated. The upside of this simple trick enabled many housewives to join the Meesho distribution network. Since they did not require capital and all they had to do was forward details on WhatsApp, the business became a piece of cake. 80% of the 1 crore + distributors are female. These numbers provide good enough evidence to suggest that Meesho hit the right cord.
Word of Mouth and sales growth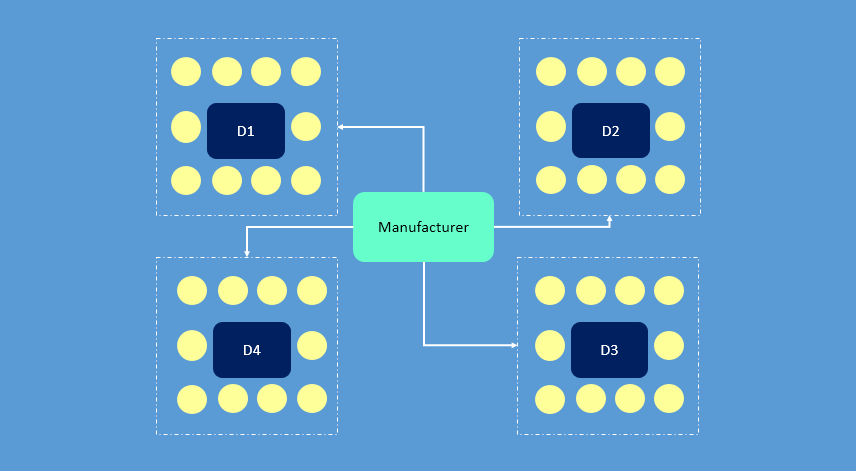 In the unbranded space, referrals and recommendations are how a business grows. If a distributor recommends a product, the chances of sale are higher than compared to an unbranded product being sold directly. Thus, changing this behavior and asking users to visit their platform was not an option. Meesho's model helps expand reach exponentially for any manufacturer. Assume a manufacturer connects with 20 distributors, each opening up connection avenue with roughly 500 people on their corresponding social circle. Thus, by connecting with 20 distributors on a platform, the manufacturer easily grows access to 10000 people. In the example of stock clearances, they have a fundamental advantage of reach, with just a single upload and you could reach 10000. This is far easier as compared to sending 20 forwards and tracking inventory and records.
Meesho's exponential growth
Meesho put in efforts to teach the basics of the business through its learning initiatives. Most of the distributors were housewives and new to the world of business. Teaching basics of business helped grow the distributor base. Vidit and the Meesho team connected with multiple distributors over Whatsapp and tried to understand the day-to-day problems with the tool. They even conducted town-halls with some of their distributors regularly to understand the trends better.
Meesho showed good growth. Their launch coincided with Jio in 2016. They got lucky because of the Jio revolution and the Increase of usage of WhatsApp.
In 2015, India did not have high mobile and Internet users. I am talking about the era when Mr. Ambani had not launched Jio and an internet pack of 1GB burned a hole in your pocket
However, Meesho came to the limelight only after Facebook made an investment deal. With the entry of Facebook as an investor, Meesho saw an increase in traffic. Today Meesho has over 80% of its distributors coming from Tier 2 and 3 cities. Meesho now boasts of SAIF partners, Sequoia and Nasper ventures as their investors, depicting optimism in future prospects.
How Does Meesho make money / Revenue Model of Meesho?
Meesho, while promoting social commerce, takes a small cut, usually 10 to 20% in all the trades. Through tie-ups and optimization, Meesho also makes money on shipping fees. Meesho unlike many startups does not rely on just ads to make money and has significant revenue. In 2019, Meesho clocked revenue of 84 crores, half of which came from commissions. To increase their business and reach, they have introduced a weekly bonus on targets.
Meesho has now enabled sharing on various platforms like Facebook Shops, Instagram, and many other platforms, thus expanding the reach of products to be sold. Thus Meesho is making a productive business of your established Social network. In terms of numbers, Meesho today has 1 crore+ distributors and claims that the average income per distributor is about Rs. 25000. 80% of these distributors are women, mostly housewives. Meesho helped many families double their family income with this initiative. Meesho is a great story of women empowerment with the simple use of the social network.
The entry of Meesho and Rise of Social entrepreneurship
Meesho definitely has a unique model that would amaze many at first. Post-Meesho, even GlowRoad has joined the bandwagon of social commerce in India. This is an early sign showing that this is not a one-player game and we might see some significant investment in this space. Though there is not much investment as yet, this could be a flash in the pan too. Social networks existed for over a decade, but by utilizing and executing distribution use cases, Meesho has led Indian entrepreneurs by a great example.
Also Read – How is Netflix faring in India
References
https://play.google.com/store/apps/details?id=com.meesho.supply&shortlink=822a84bc&pid=Meesho_website&showAllReviews=true
https://www.freshworks.com/live-chat-software/integrations/whatsapp/whatsapp-for-ecommerce/