Netflix in India – Success or Failure
Netflix was launched in India around 2016. Since then it has been under the limelight. The objective with which Netflix landed in India was to obtain its next 100 million customers. With the growth in the USA stagnating and stock prices plunging, they had to look for avenues to expand growth horizons. Though Netflix does not officially publish its region-based numbers, as per RedSeer consulting, Netflix has reached an approximate 11 million Monthly active users in India. This number is far from their original target of 100 million. Netflix is already being written off as a failure in India with Amazon Prime and Hotstar, able to produce big numbers. Let's analyze if Netflix really is a failure or there is a long term plan evolving.
Why Netflix is struggling in India
Pricing strategy, stiff competition from big players and content relevance are some of key reasons Netflix is struggling in India. Let's look at each one of them one by one.
Tough Competition
Hotstar and Amazon's OTT Prime Video are major players in the Indian markets in competition with Netflix. They have a higher market share as compared to Netflix. Hotstar allows you to access their platform even if you are not a paying customer. Their paid subscription costs Rs 365 per year and an expensive one is Rs 1000. Hotstar today is the most subscribed plan in India with 150 Million plus paying customers, with over 300 Million plus Monthly active users. Hotstar has seen a spike in its numbers thanks to streaming of cricket tournament IPL. Successfully streaming to more than 10 million customers in one go has done some real wonders to the platform.
Prime video has over 100 Million + downloads. Amazon Prime is priced at Rs 999. This comes in bundled with free music subscription, book subscription and obvious benefits on their e-commerce platform. Indians being particular about Value for Money, obviously turned to cheaper plans. JioTV is another name worth mentioning. Through various partnerships, JIO streams live television and cricket games. All this comes bundled with their various monthly/quarterly plans. These plans are in itself so cheap that the end-user ends up paying no premium to get access to all sorts of entertainment.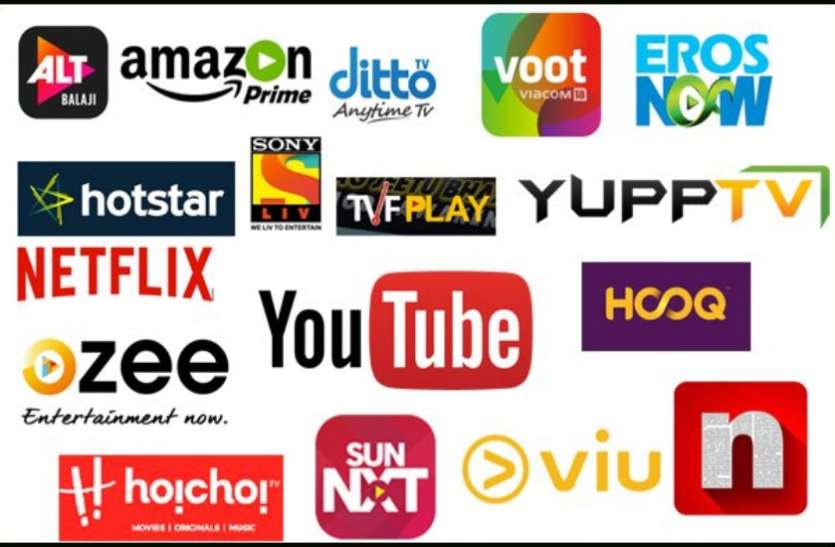 Smaller Players, really?
Along with Hotstar and Amazon prime, there are close to 30 odd OTT payers in the Indian markets. You have the broadcasting house platforms like ZEE5, Voot, Sony Liv. All these 3 platforms publish shows on their television platforms and also create 'Originals'. (Original is a term referred for shows created for OTT medium only). All three platforms basis their Television shows, and a wide variety of offerings enjoy good metrics. Voot has 100 Million + downloads and 50 Million plus Monthly average users. Sony LIV, the OTT platform from Sony India, has 30 million viewers, much better than Netflix.
MX player backed by times group is a surprise player in this space. MX player had a strong base already thanks to its Video Player. Post-acquisition by times group, and introduction of original content, it still enjoys 176 Million plus monthly active users. Considering content quantity being much lesser compared to big players, these numbers are steep.
Netflix has tough competition from many many players. In such a scenario, Netflix will have to segment its target audience well and generate the content to keep them engaged.
Stiff Pricing by Netflix
Netflix introduced in 2016 with plans starting at Rs 500. These plans had specifications in terms of the total number of devices allowed and the quality of streaming. If you buy a plan worth Rs 800 per month, which will allow you to use on 4 devices and gives the highest quality of the stream. With this plan, you end up paying close to Rs 10000 per year for just a Netflix subscription. In dollar terms, at a conversion rate of 70, it would be close to $140 only. However, this is a high price for the Indian middle class. To conquer pricing challenges, Netflix introduced a mobile-only plan, specific for India at Rs 199. Still not cheap enough for India as compared to Hotstar and Amazon Prime.
Content is King
When it comes to streaming services or any entertainment platform, content rules the space, period. Hotstar, Sony Liv, Zee5 and Voot enjoy the benefit of locally produced content. Prime video and MX player, on the other hand, created some original content, to serve their target audience. Netflix, on the contrary, has limited India specific content.
If Netflix is looking for huge numbers, it will have to customize the content which targets the mass audience in India. Like the food giants McDonald's and Subway had customized their menu to suit the Indian customers, Netflix shall also have to revamp the menu to achieve a target of 100 million viewers.
With tough competition and not so easy time back home in the USA, Netflix surprisingly has some advantages to its name.
Advantages for Netflix
The content produced for western countries is liked by many in the Indian audience. Indian audience has been quick to check out all-new web series published on the platform. Also, publishing all episodes of a season in one go works wonders for Netflix, increasing the overall stickiness and increasing share of user's time.
Consulting firm BCG has calculated that Indians spend just 4.6 hours each day consuming media (including print, TV, radio, digital), far behind Americans, who spend an average of 11.8 hours. Thus again opening up another window of opportunity of the under-tapped Indian market.
70% of Netflix users on an average in India, watch a movie a week (which is highest in the world) as per BrandEquity.com. This showcases the high level of stickiness in Indian markets for Netflix.
Morgan Stanley Research mentioned that for July, Netflix had the highest engagement of more than 120 minutes
Netflix also has experience in various markets and that would add tremendous value for them to grow from the current stage to 10X and beyond.
Closing Notes
Netflix has been targeting affluent customers, to begin with. It does not rely on ads for making money and hence passes on the costs of its customers.
Netflix has enjoyed a decent success of reaching 10 million customers (if the numbers were accurate), in less than 4 years. Though this may not be in line with the expected numbers, considering the competition and Indian customers difficult to crack, I believe Netflix has done a wonderful job.
In terms of success or failure, OTT is a game of longer run, which has just begun. In the short run, other players may have done very well, but in the longer run, we might see a different story.
Read More about How Netflix could fix it's India Strategy
Also Read – 3 reasons why Disney chose to start their own Streaming Service
References
https://www.cnbc.com/2018/07/05/netflix-and-amazon-are-struggling-to-win-over-indian-viewers.html
https://www.wired.com/2017/01/how-netflix-lost-big-to-amazon-in-india/
https://www.livemint.com/industry/media/netflix-s-next-big-market-is-crowded-with-cheaper-rivals-1563469842864.html
https://www.bbc.com/news/world-asia-india-49109007
https://itsfacile.com/why-netflix-is-struggling-in-india/
https://inc42.com/features/heres-what-india-binge-watched-in-2019-in-ott-video-streaming/
https://www.businesstoday.in/technology/news/india-most-important-market-for-netflix-launches-a-mobile-only-plan-at-rs-199/story/367542.html
https://www.thehindu.com/business/Industry/Netflix-launches-in-India-plans-start-at-Rs.-500/article13986241.ece
https://brandequity.economictimes.indiatimes.com/news/media/70-netflix-users-in-india-watch-one-film-in-a-week/73029619