When Life gives you Lemonade, you refresh the way of doing business 😛
Warren Buffett, an American investor, always loved insurance as a business. His portfolio reflects his affinity for insurance. Insurance as a business has grown significantly and became supremely profitable. Although, the insurance business has remained stagnated in its approach over the decades. With the advent of technology, the InsurTech revolution took place, where technology meets insurance. Lemonade is one such Insurtech initiative that has used technology to its advantage. The key differentiating factor for Lemonade though, is that it has taken a different approach altogether over conventional insurance. Let's look at how Lemonade is different from standard Insurance businesses.
Typical Insurance Business Practice
Before getting into how Lemonade does business, let's quickly understand how Insurance companies do business. (If you are familiar with the Insurance business, you can skip over to the next section). Insurance as a practice is possibly one of the oldest financial instruments, which started somewhere around the 2nd or 3rd Century BC. The fundamental idea behind insurance is to create a pool of money for unfavorable conditions. This pooled money would come from individuals and come in handy at a time of adversity. Gradually, Insurance became a streamlined business offering.
Many corporate houses started using advanced mechanisms to make their premium pricing efficient. An efficient premium pricing would help the company collect enough money from the people to cover their risk. This premium at the same time has to be competitive enough against other Insurance companies. Against the premium paid, the company issues an insurance policy for a specified duration. A large proportion of profit for insurance companies comes from expired policies where the premium paid becomes the profit. This retained amount, also known as underwriting profits, helped insurance companies expand their horizons and balance sheets.
Lemonade Business Model
Technology started making inroads in the financial industry in the first decade of the 21st century. Companies began exploring opportunities in how technology can be used in various use cases in Insurance. One such innovative product of Insurtech is Lemonade, which launched its operations in April 2015. Lemonade offers protection against property and casualty. The New York-headquartered company provides insurance for house owners and renters. Available in a few select locations, Lemonade offers app-based purchases. To simplify their business model, let's divide it into three major segments as follows.
Technology-enabled ease for buying journey
Quick Claim settlement
The famous Lemonade Givebacks
Technology-enabled ease for buying journey
Daniel Schreiber, founder of Lemonade, in one of his interviews mentioned that people earlier associated insurance with paperwork and hassle. Lemonade aimed to make the process instant and fun. If you look at their app demo, they have eliminated the lengthy forms. Instead, the user has to answer a few questions via its chatbot. The buying experience is similar to that of chatting with your friend. Lengthy form filling is replaced by asking the user to record several details on camera. Lemonade chatbot would assemble all responses and processes an algorithm that would generate the quote for the insurance coverage. Lemonade possibly maintains records of all properties /localities and has quantified risk associated with it. This process helps them take prompt underwriting decisions, effectively reducing the buying time for the end-user. The overall experience of buying insurance; with the usage of technology becomes completely hassle free.
Quick Claim settlement
Similar to its expedited and simplified buying journey, Lemonade has a simple and intuitive process. Lemonade allows the end-user to send a claim from their app. Importantly, most of their claims get settled in seconds.

A part of these quick claims provides the user with a great user experience. Hence, the user would want to come back for repeated purchases. Instant claim settlement earns them publicity through word of mouth. Founders of Lemonade, attribute Givebacks as an additional motivating factor for settling claims real quick.
Lemonade Givebacks
In traditional Insurance businesses, companies would retain premiums paid by customers post-policy term as profits. Lemonade, on the contrary, gives back 40% of the underwriting profits to the non-profits, majorly towards a social cause. When a customer is buying the policy, he can decide on what causes the person would want the underwriting profits to be shared with. Donating for a cause from your insurance premium, which was never going to come back, provides a feel-good factor. Most importantly, since Lemonade has nothing to gain by holding back the claim, they would want to settle any claim faster.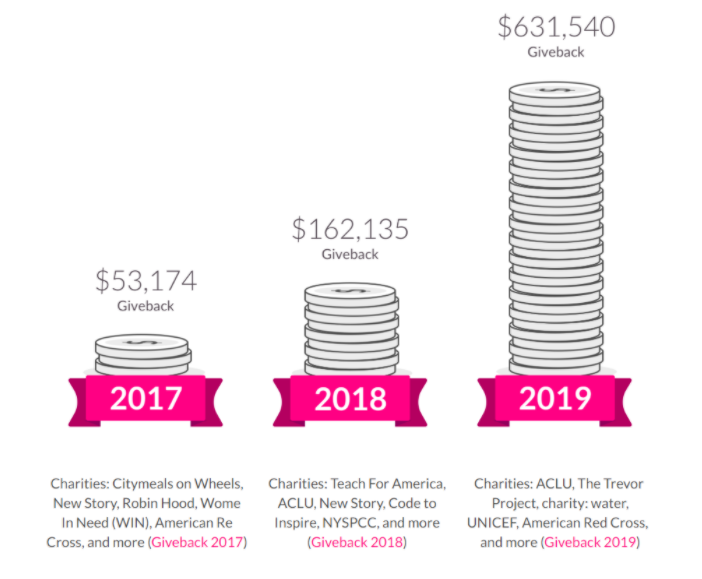 How does Lemonade make money?
If lemonade is giving away a major chunk of the profits, the obvious question is how does lemonade make money. During policy issuance, Lemonade charges a flat fee to the user, which is 25% of the premium. The remaining money goes towards underwriting. They also reduce their risk through reinsurance, like conventional insurance companies. So effectively, through efficient pricing and quick claim settlement Lemonade saves on operational cost. By giving back to society, they also gain social prominence for their good deeds.
For a typical insurance company to be profitable, it takes more than a decade. Since Lemonade is not retaining most part of its profits, it may take longer for it to turn profitable. Investors like Aleph, Sean Grusd, General Catalyst, GV (formerly Google Ventures), Sequoia Capital, Thrive Capital, XL, SoftBank, Allianz SE, and Sound Ventures have shown faith in Lemonade.
Parting thoughts
Lemonade was launched with the idea of making a change to the traditional business methods. Lemonade aims to support the cause of society rather than just making money for themselves.
Hope to see more initiatives where there is a coexistence of business growth and social development.
Also Read – A Disruption story on Indian Brokerage houses