Recently BharatPe had a funding round of $108 million, valuing the company at $900 Million. Indian Markets already have tons of payment gateways and payment processors. BharatPe made a dent in less than 2 years in a payment market, which seemed saturated already. BharatPe is now a soonicorn (soon to be a unicorn) company. Achieving this feat in about 2 years is a massive success in itself. So what exactly does BharatPe do and how BharatPe is changing the Indian payments landscape; let us find out.
Founder of BharatPe
Ashneer Grover, an IIT Delhi, and IIM-A pass out, started his professional career as an Investment banker at Kotak. While working in investment banking, he had a keen eye on the Indian startup evolution. To get a feel of how startups work, he decided to join Grofers, where he worked as Chief Financial Officer. His last venture as business head at PC jewelers helped him gain insights on the sales aspect. During this tenure, he always had the ambition to create his own startup.
His journey effectively started when he connected with Shashvat Nakrani, an IIT Delhi student. They both connected and started working towards a startup that would help small retail stores in India. With Jio, Whatsapp, and many supporting ecosystems, technology reached the end-user quicker than ever before. Under the able leadership of Prime minister Narendra Modi, a whole new digital ecosystem started to evolve. Digital Kirana as a concept was picking up thanks to the increased reach of technology. Many startups like Khatabook started to build an ecosystem for these mom-and-pop stores. BharatPe is one such solution targeting the small merchants in India.
BharatPe Launch
NPCI's UPI offering and many wallets did make payments easy for the end customers. With the growing ecosystem of mobile payments, retail stores ended up having 5-8 QR code placards on their storefront. All these payment solutions targeted the consumer end. BharatPe decided to focus on the merchant end. Effectively in a two-party transaction, when everyone was targeting one party (consumer), BharatPe had no competition when they targeted the merchant end. Their launch tagline went on to say 'Ab customer (struck out) Dukanadar is king' (meaning Customer is no more the king, but the merchant is). The brand name was chosen well, indicating rural India's payment solution.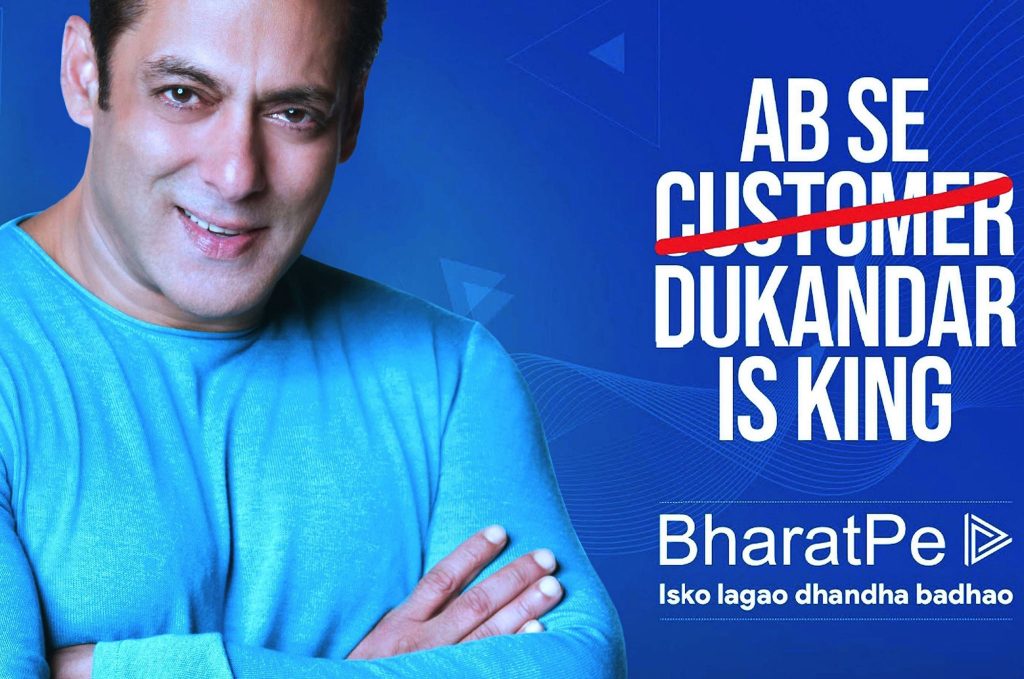 They helped merchants create a single QR code, which replaces multiple QR codes currently required. This offering was an easy kill to get attention. Though this definitely would not be enough for a company to grow and become profitable.
BharatPe business model
BharatPe had to build an ecosystem around its USP; it had developed for itself. They decided to be the one-stop-shop for digital payments. Their BharatSwipe POS machine is a free point of sale (POS) payment machine. Usually, POS machines in India start at about 2000 Rs (the equivalent of $30). BharatPe levies no transaction fees on payments through these POS machines. With existing solutions, merchants paid 2.5% fees on each POS payment. Getting the full amount does make the merchant feel like a King.
They also launched an Xtraincome card for these merchants. This card gave a flat 1% cashback on all transactions. The application for this card was simple and just required a few clicks for the application.
BharatPe so far has built a network of 5 million merchants across 65 cities. They have a whopping 25 lakh transactions being undertaken per day through their offerings. They have processed payments worth $7 billion and are targeting $30 billion by 2023.
If you have been a merchant in India, getting access to POS machines without transaction fees and access to credit cards with so many offers is a dream come true. It makes one wonder, why would BharatPe be so liberal with merchants; when not many Financial services companies have opted to keep their distance from this segment. More importantly, BharatPe did not have any way of making money on any of the above offerings other than a refundable deposit on its POS machine. Moreover, BharatPe has hired Salman Khan, Rohit Sharma, Jasprit Bumrah, KL Rahul, Shreyas Iyer, Ravindra Jadeja, and Suresh Raina as their brand ambassador. Their cost of hiring would be significantly steep.

How BharatPe Makes money?
In the Indian financial systems, it is easier for you to get a loan or any financial service product if you are salaried. However, if you are into business, the number of documents expected would be demotivating enough for a person to stay away from such offerings. BharatPe identified this gap and created a market segment for themselves.
Here is the real deal for BharatPe. Records of payment received through BharatPe payment products would be stored in their system. BharatPe would know your revenue through POS and QR code products. Xtraincome card would help them understand your expenditure patterns. Basis the data available, BharatPe now knows most of the income and expenses of the merchant. They offer a collateral fee loan to the merchant basis this data.
BharatPe allows the users to make repayment daily as well. The payment installments could be linked to the revenue generated from payments received by the merchant. Thus, merchants do not have to worry about loan repayment monthly and can complete these small loans in a few months.
On completion, thanks to their loan repayment record, they would now be eligible for bigger loans. To put it from a merchant's perspective, if he wants to expand his business, he can take a loan of a small amount, keep repaying basis the revenue generated. Once fulfilled, the merchant can take a bigger loan. BharatPe, on the other hand, benefits by enhancing their loan-book, especially now with repayment record availability.
Future roadmap
BharatPe is targeting to achieve a $1 billion loan book by 2023. To put this number into context, it would be similar to the loan book of most mid-sized banks in India a few years ago. For a company that started in 2018, achieving these numbers in 5 years is incredible.
Over and above this BharatPe with Centum group has also given an expression of Interest in acquiring troubled Punjab and Maharasthra cooperative (PMC) bank. If they get access to becoming a bank, BharatPe shall scale to even bigger heights. It could soon even become one of the big leagues of the Indian Financial sector.
Parting thoughts
By targeting this non-targeted segment, BharatPe has already shown that there are ample opportunities for business in India. Not only that, you can scale your business to newer levels if your target segment is understood well. Though BharatPe has observed steep growth, there have also been incidents of concerns, which are all over social media. Once BharatPe irons out these concerns, it's brand and scale will both shoot through the roof.
Also Read – Can JioMart be the Robinhood for declining Kirana stores