Real synergies of Societe Generale acquiring Shine
Societe Generale, a French multinational bank, declared the acquisition of a neo-banking startup called Shine. This is the second major acquisition by the French multi-national bank in the last 3 years. Societe Generale may not be on an acquisition spree, but both these acquisitions align with their digital strategy. Let's look at some of the synergies and how they stack up against the long term plan laid out.
A Brief Background of SocGen
Societe Generale (also abbreviated as SocGen), is one of the three oldest banks in France. SocGen is 150 year old organization, founded in 1864. SocGen faced a tough start to the 21st century with Financial crises and scandals. The financial crisis and scandals left a dent on reputation. Around the same time millennial requirement for convenience were not easy to meet. The old existing IT infrastructure of BFSI needed a digital revamp. Like all BFSI moving towards digital transformation, SocGen also adopted the digital transformation route. Their digital transformation strategy has 3 formative steps, with the last one being Disruption. One key ingredient of this last step mentioned is – It involves reassessing the way the company does business to identify its unique capability or skill, its core competency. Soc Gen is ready to adopt the ways and methods of newcomers
A Brief Background of Shine
Shine, on the other hand, is a neo-banking startup, started in 2017. This Neo-bank targeted the customer base of micro-businesses and individual workers. Shine targeted the problem statement, that not many millennials are comfortable with the nuance of finance. Even if they are comfortable with the nuances, they prefer to spend time focusing on their core activities. Shine charged a minuscule fee, against which, it did automate most of the banking and business transactions. Shine also offered a business opening service, which is termed as slightly cumbersome in France. This toddler showed promising signs and raised a funding of $12 Million in 3 years. Their customer base of over 70000 became proof of a successful model.
Acquisition of Shine by SocGen
BFSI is undergoing a massive transformation through technology. SocGen had to step in with a disruption strategy to stay relevant. Though they had a decision to build, building products in-house in BFSI cannot match new-age innovation and agility.
Before the acquisition, SocGen did acquire a BaaS (Banking-as-a-Service) startup Treezor. Treezor provides a platform for new-age banking startups, one of their 30 customers being Shine. By acquiring Shine, SocGen would be able to have vertical integration of having a BaaS and Neo-banking startup in its portfolio.
Post Acquisition Synergies
Post-acquisition statements in media suggest that Shine is expected to continue independent operation. SocGen is expected to pump up its micro-business and individual freelancer customer business through Shine. Shine would provide a low-cost model through automation, which is a perfect fit for its target audience. If these micro-businesses and Individual workers ever grow and want premium service, SocGen can rise to the occasion. Alternatively, SocGen could learn the art or new age banking from Shine and implement a few tricks in core banking activities. Shine, by joining the major leagues will have the experience and stability from SocGen. Also, Shine will now be able to execute their plans faster with strong backing.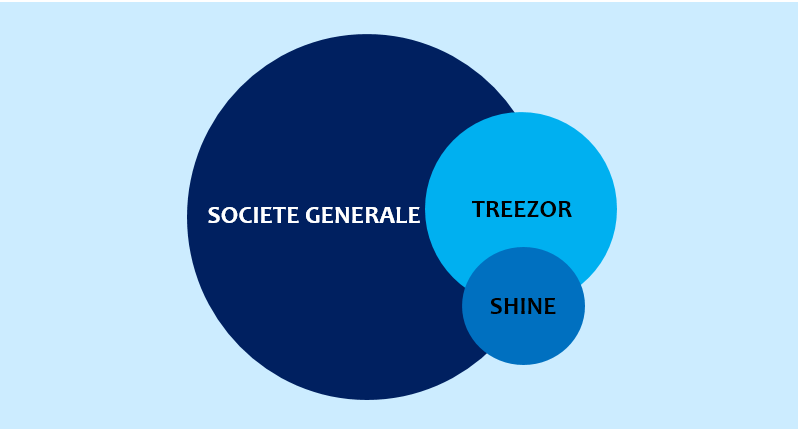 Treezor being the middle-ware is expected to have in house experimenting platform. Shine was heavily dependent on Treezor and may have opted for direct integrations with banks, instead of Treezor. With this acquisition, Shine can continue on the Treezor platform. This vertical integration shall enable synergies between both companies to boost the SocGen neo-banking kit.
Neo-banking has been on the rise in the last few years. Corona crisis has added fuel to the fintech revolution. Expect more and more such acquisition by cash-rich BFSI organizations.
Also Read – How Technology is opening up new avenues for Financial Services
References
https://techcrunch.com/2020/06/30/societe-generale-is-acquiring-freelancer-challenger-bank-shine/
https://www.pymnts.com/news/b2b-payments/2020/societe-generale-buys-entrepreneur-focused-neobank-shine/
https://www.societegenerale.com/en/digital-transformation
https://www.societegenerale.com/en/newsroom/acquisition-of-Treezor
https://techcrunch.com/2018/09/03/shine-grabs-9-3-million-to-build-a-bank-for-freelancers/?guccounter=1&guce_referrer=aHR0cHM6Ly93d3cuZ29vZ2xlLmNvbS8&guce_referrer_sig=AQAAALIyNhwmKz1MG8AmrhCKuMwll_KU5a2vwuzox-zxdZPmp5tWq8osOkjhkzAzF3iXsn2oRXSQGquhjKE0oYMOnSUMoAhfxo3RWdRXYsd6oZRDuPTf8JYYvkxovADqL_i7NieQvKLOIC7PojX4JyVQx2qxknYF5jNzCMNGde3NY5Uy