Hyper-personalization in Food delivery business
After a tiring and a hectic week, working professionals do not always prefer to go out for elaborate dinners. Hence we have seen the concept of food delivery. Not only the concept has formed strong grounds, but it is also quick.
Food Ordering – Then and Now
Flashback to a couple of Years – Customer would have to call up nearby restaurants. (Nearby restaurants were the only options since restaurants did not have many on their delivery team). The order placing system would require knowing what is available and what is not. Further, you need to provide a delivery address, even if you are a regular customer. The restaurant would then provide a waiting time without any tracking mechanism. The customer would have to call the restaurant multiple times to follow up.
Fast forward to Present – Restaurants have a tie-up with delivery firms. These tie-ups have helped the business tremendously. Users with several on-screen selections can place the order. Restaurants do not need to have a delivery team. Post ordering user has a streamlined tracking mechanism as well.
Economies of Scale
These food delivery businesses face several challenges like
Not a profitable business as yet.
Customers have a problem of plenty and struggle to choose.
A repetitive process to follow while ordering. Imagine you are ordering food daily and have to follow a monotonous process.
Food delivery apps need economies of scale for turning profitable. For profitability, they will need to simplify and enhance the food ordering experience. Hyper-personalization is one such method through which food ordering apps can enrich user experience.
Hyper-personalization basically uses new age technologies like Artificial Intelligence and Machine learning to simplify user journeys. This can be done by making optimum use of available historical data. In simple terms, the system would enable and optimize with maximum use of available data.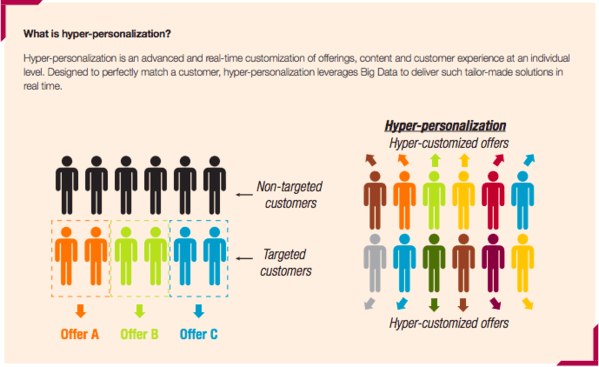 The case at hand (depicted in the video below) here showcases one such example. Customer may want to have food but is unsure about the food cuisine. He could opt for various in-app recommendations that are provided. The user here opts for an assistant which would guide him through the journey.
How can Hyper personalization help
Current food ordering journey is very much manual and is low on interactions. Chatbots, on the other hand, are interactive. I use the example here where a user would want to order food and is not sure what he is looking for. Rather than opening up the app and wasting hours on browsing, I would let the chatbot do the job for me.
User is expected to provide info on food for being ordered for the number of people and budget. These would be key parameters to start off the food ordering journey. The user could opt for the dish he wants to order, without system recommendation and select dishes with help of chatbot interactions.
In this case (depicted in the video below), the user would go ahead for an algorithm-driven 'Surprise Me'. This Surprise Me option would provide some recommendations basis the history of the orders of this same user. It also considers the orders of some of the users in similar profiles. It could also rely on what's trending like say for example in the rainy season people might opt for warm and fried food.
Chatbot here while scanning the list of dishes and past orders would also scan through the existing promotions and offers. Also obviously make the best use of the memberships if any. This effectively will reduce users manual effort of searching for promotions and coupon codes.
Hyper-Personalization here will also simplify the journey by utilizing existing available info of payments and delivery address. Most of this information is available and needs to be leveraged.
So, as compared to the current process of unlimited browsing, selecting and placing orders, the journey can be simplified to a large extent. This interactive system shall allow users to choose from a recommendation engine, reducing total order time and achieve a few click food ordering journey. I believe a multi-fold increase in business can be achieved through hyper-personalization.
Overall, hyper-personalization is the need of the hour to achieve enriched customer experience.
Also Read – How could Pocket make reading PDFs easier